scroll, flat, spin
Staff member
Global Moderator
Founding Member
Full Member
Forum Moderator
Messages

19,244
Reaction score

28,099
Location
First name

Greg
Here's a review of the 16" ego battery powered chainsaw. It was $299 on Amazon.
Who don't like new tools!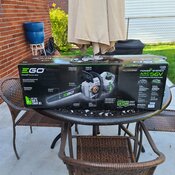 What you see when you open the box.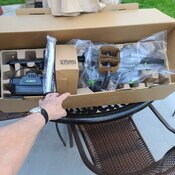 Comes with a 56 volt 5 amp hour battery and charger, blade scabard too.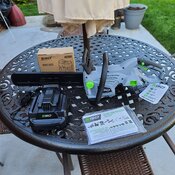 What it looks like with the battery installed, it has good balance.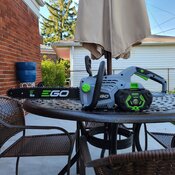 It cut this locust up easy peasy.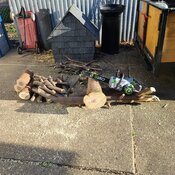 So my first impressions are good, it's quiet, surprisingly powerful for light duty like this. I did cut the tree down with it. I dig the no gas thing and low noise, you could use it indoors in your shop too. It's tool less blade tensioning and it can be adjusted with the thumb wheel that's above the bar or you can use a screwdriver like a traditional gas saw. It has a very narrow kerf chain, perfect for a cordless tool. It threw chips like a champ. So the main reason I decided to give this saw a try is because I needed another battery for my other ego equipment so for $50 more than the cost of the battery I got the tool too. It's a handy little saw the tree I took down and the branches I cut up where a good test for it.
Now for the bad.........
I happened to get a saw that was defective, when I was cleaning it up to put it away I noticed there was no oil residue around the bar and cover area. So I pulled the bar and chain off and ran the saw and no oil came out of the hole to feed the bar and chain. Now the good thing about ordering it through Amazon is they sent a replacement right away and arranged for ups to pick the defective saw up.
New saw was tested and it instantly produced oil. So all is good with the saw and I also got the extra battery I was needing.